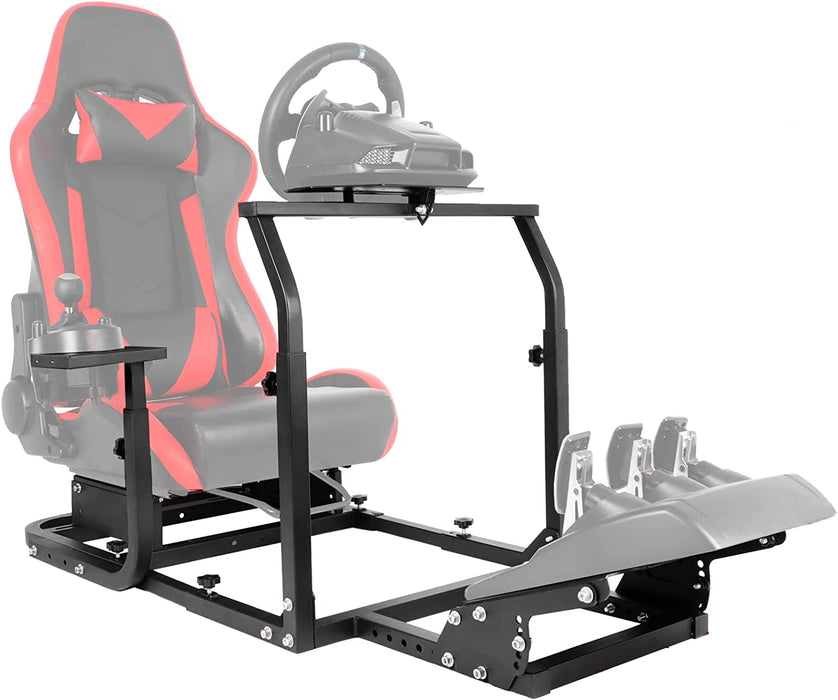 Minneer™ Driving Simulator Cockpit Adjustable Fit for Logitech G25 G27 G29 G920 Racing Wheel Stand , Wheel,Seat and Pedals Not Included
【Full Compatibility】 This steering wheel bracket is applicable to: Logitech G25, G27, g29, g920 and g923 steering wheels, pedals and shift levers; Thrustmaster t500rs, t300rs, TX Ferrari 458 wheels and pedals; Fanatec Porsche and CSR wheels, fanatec ClubSport pedal, fanatec CSR elite pedal, fanatec shifter can be installed together with "fanatec shifter support".

【Humanized and Adjustable】 Fully consider the personalized needs of customers. The steering wheel and pedal angle can be greatly adjusted; The pedal has long-distance adjustment function. The width of the seat frame can also be adjusted. Support left and right driving.

【Unique Design】 Frame design, alloy steel structure. Additional rebar parts are added to the bottom of the frame. This makes the dardoo simulator one of the most special frameworks on the market. It can easily carry 100% force feedback. The load capacity is 450 pounds. Longer working hours.

【Installation and Game】 Equipped with all installation accessories and additional M6 bolts (which can be used to install the steering wheel or pedal) for quick and easy assembly. It can give you a dynamic and cool game experience. Note: steering wheel, pedal and shift lever are not included.

【Seat Stand Available】The rear half of the whole support includes seat support. The use of the whole set of equipment can bring you a real and complete racing experience.
Product Description
PRODUCT INTRODUCTION:
Welcome to the amazing design you've been looking forward to for a long time. Its appearance can have a strong impact. The new miner driving simulator shows a bodybuilder's sculptural frame for maximum stability and sustainability. Our constant adjustment has obviously changed completely. Miner driving simulator to sport driving, you need adjustable chassis, steering and pedals. Provides a more sporty treatment than ever before, so you can conquer curves.
Steering Wheel Stand Adjustment:

The radian design at the bottom of the steering wheel platform can easily adjust the angle of the steering wheel.

Pedal Frame Adjustment:

It has 8 gear pitch adjustment and 5 gear angle adjustment. You can easily adjust your position according to your own needs.

Support For Left / Right Driving:

Pre drilled holes on both sides of the seat bracket. Whether you drive left or right, you can control it at will.
Steering Wheel Height Adjustment:

Longer arm support. The height of the steering wheel can be adjusted in a wider range. Make the car race smoother!

Length Adjustment Of Racing Bracket:

Humanized length adjustment design allows legs to gallop more freely on the field!

Suitable For Most Racing Chairs:

The seat bracket supports width adjustment. Most seat brackets on the market can be installed. The driver can choose the racing chair according to his preference.
SPECIFICATIONS
Condition: New

Package length:65Cm

Width: 56Cm

Height: 20Cm

Package weight: 17Kg

PACKAGE INCLUDES
Simulator Steering Wheel Stand

Assembly tools
NOTE:
Wheel & Pedals & Seat Not Included.