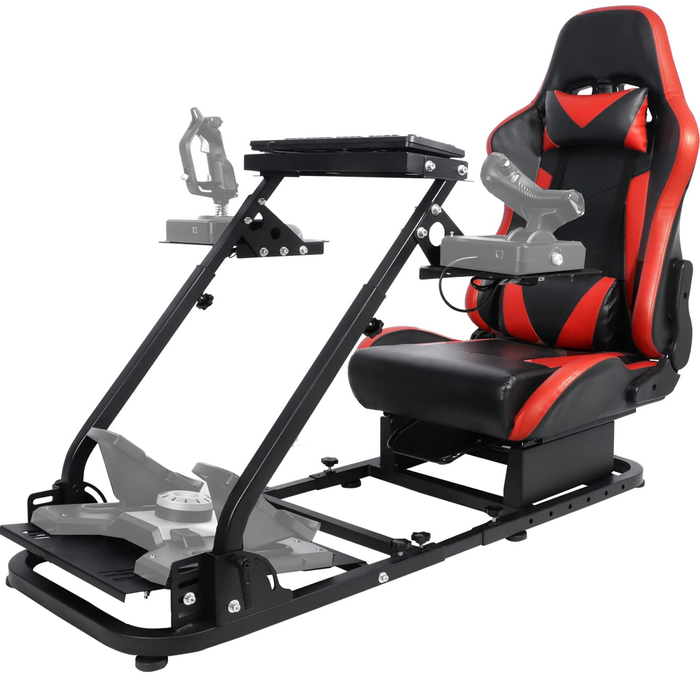 Minneer™ Flight Sim Cockpit with Red Seat and Racing Wheel Stand Support for HOTAS Warthog, Thrustmaster,Logitech Adjustable |Throttle,Joystick,Keyboard not Included|
【Compatible Models】Compatible with Logitech X52 X52PRO, X56, Tumaster T16000, Airbus stick and throttle, A10C rocker and throttle. Compatible with all major brands of flight electronics, such as yoke, joystick, rudder and throttle

【Easy Adjustment】 Wide range of adjustment to customize your flying experience, adjustable racing wheel frame height: 22.5"-30", adjustable pedal angle: 8-18°. Steering wheel angle: ±5°.

【Multipurpose bracket】The bracket for mounting flight controller. Can also be used for racing game bracket. Controller, steering wheel, handbrake, shifter and pedals sold separately.

【Space Saving】g29 bracket can be folded in seconds to save space and reduce floor space. It is the best choice for players with limited storage space.

【Quality Material】Sturdy carbon steel professional steering wheel holder, rust-proof, more rust-proof than normal steel products. The seat is made of artificial simulated PU leather, easy to clean and maintain. Interior filled with high-density foam.

【Upgrade Description】 Extra large shift lever panel, you can place mouse and keyboard when playing flying games, and you can install handbrake and shifter at the same time when playing racing games.

【Buy with confidence】 Please feel free to contact our support team. If you have any questions about our products, we are always ready to help.

【Please Note】Includes bracket and seat only.