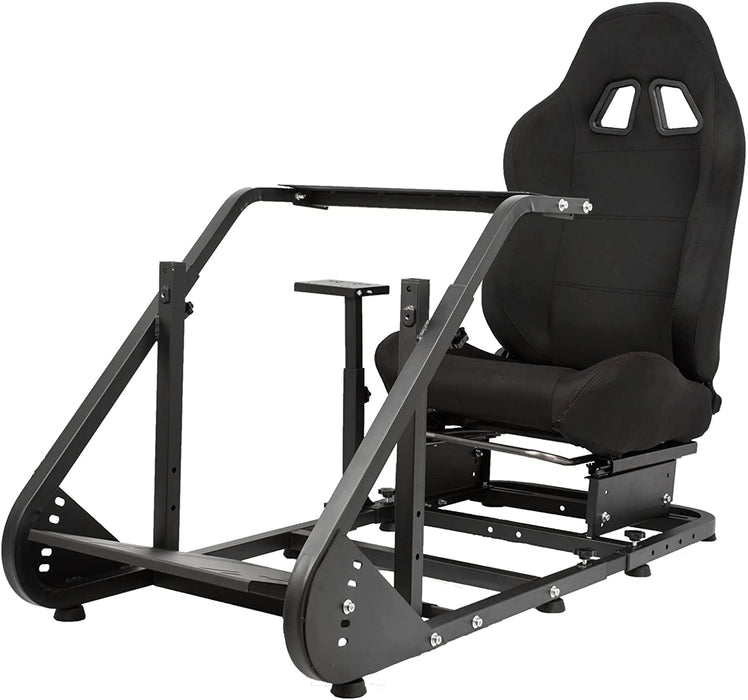 Minneer™ Driving Simulator Cockpit Frame with Black Seat Compatible with G25 G27 G29 G920
【Monitor Mountable】This racing stand is fitted with a monitor stand base. A monitor stand can be mounted on it to suit your needs. You can play games without having to stare at the computer screen. Just look at the monitor mounted on the stand and you can play.
【Sophisticated Design】The rear half of the stand can be adjusted to 4 seat heights. The bottom part can also be adjusted in length to suit your height and body type. The pedals have 5 adjustable angles. The surface of the stand is coated with a smooth, non-fading finish. Exquisite detailing makes this stand stand out.
【Change Gears Left and Right】This racing stand can have a seat mounted on it. The shifter next to the seat mount can be changed from left to right. In addition the shifter can be raised or lowered according to individual needs.
【Seat Mounted】The stand is fitted with a racing seat, which is designed in black mesh and filled with soft foam. The seat back can be tilted from 60° to 135°. The racing seat is fitted with double brake slides and can be moved backwards and forwards. Highly comfortable, it can also be reclined for gaming.
【Long Time Use】Quality is determined by details. The bottom of the stand has multiple non-slip rubber feet to keep it firmly anchored to the floor, keeping it stable and protecting it from damage. The bolts and screws are also less likely to rust, making it durable and long-lasting.
【Various Models Compatible】Logitech G25 G27 G29, G920; Thrustmaster T80 T150 T300RS, TX, T500RS and F458, F430, can be directly installed and adapted to major brands.