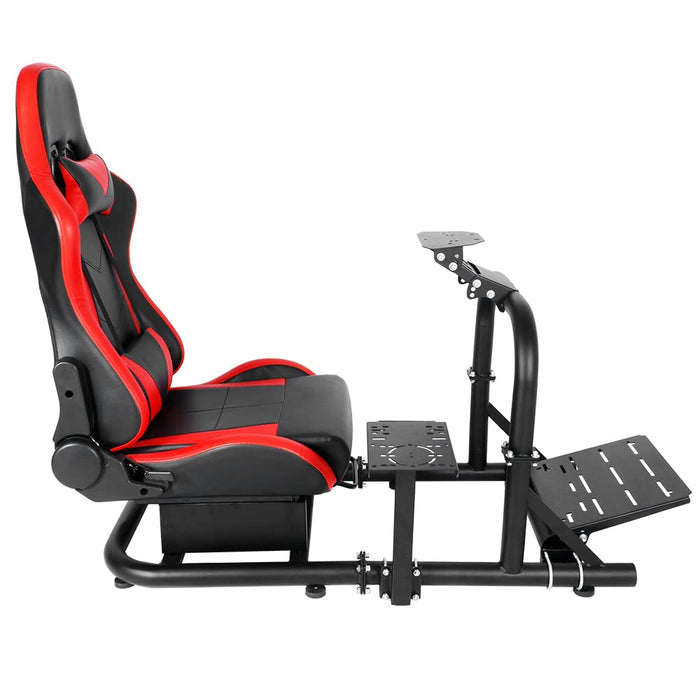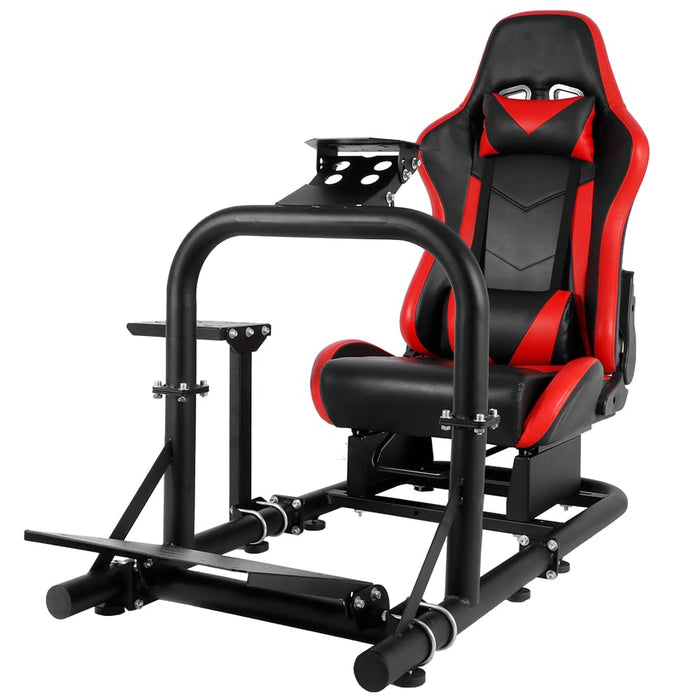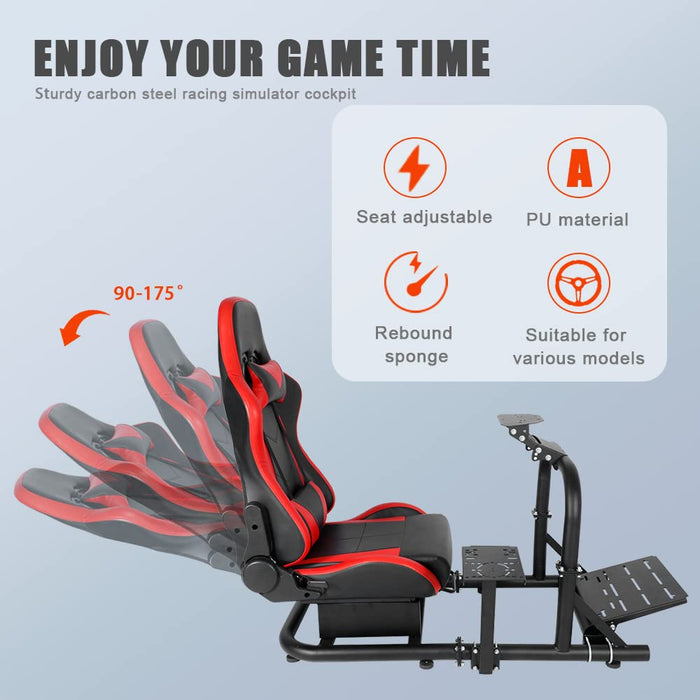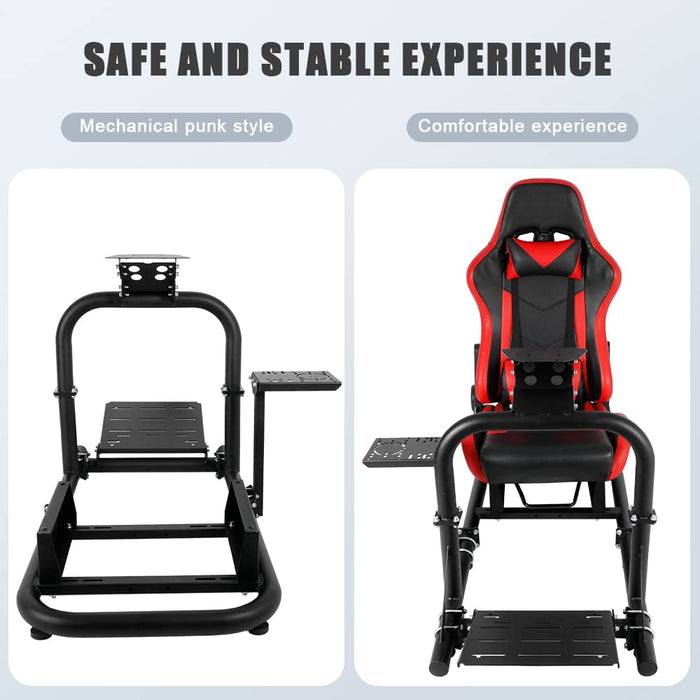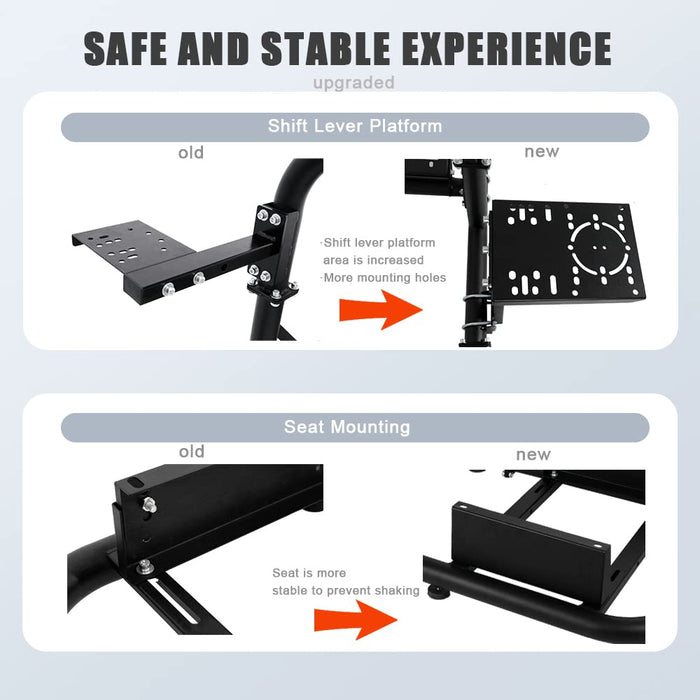 Minneer™ Racing Simulator Cockpit Stand,with Racing Seat fit Logitech G25 G27 G29 G920 G923 Thrustmaster T300 Fanatec,Steering Wheel Stand NO Wheel Pedals Visit the Supllueer Store
Racing driving sim cockpit with black chair does not include shifter, steering wheel, pedals. This product is delivered in two packages.

【High quality material】The racing game simulator stand is made of high-strength alloy steel structure; hand-made double-layer black anti-rust spray paint; adjustable highly flexible round rubber feet.

【Solid connection】Adopt the new U-shaped tube card connection, using reinforced carbon steel double tube fixed, unlimited position adjustment 【Unique design】The racing steering wheel stand adopts flange articulation structure, which is more contact surface, more stable and safer compared with traditional bolt connection.

【Convenient Upgrade】Shift lever platform increases area, supports simultaneous installation of shifter and handbrake, mounting holes add Thrustmaster HOTAS Warthog Flight Stick mounting holes.

【Perfect Advantage】The gaming cockpit has a unique punk style, flange structure, corner anti-collision design, 50MM thickened round tube, making the racing game experience more solid.

【Multi-compatibility】The Foldable Racing Cockpit is compatible with all brands on the market, suitable for Logitech G25 G27 G29 G920 G923 Fanatec Thrustmaster T300RS TX F458 T500RS, etc. Support DIY, drillable and weldable.

【Multi-position adjustable】The height angle of the racing game simulator can be adjusted left and right according to your preference. Each joint is designed with steel connections for easy disassembly and adjustment. Product design is compact, easy to store when not in use, can save space in the game area.
【Seat Material】Made of smooth man-made simulated PU leather, thick and sturdy, easy to clean and maintain. The red shape is stylish and rich in competition, the interior is filled with high-density sponge, and two pillow cushions are configured at the waist and head, so you won't be very tired even during long gaming sessions. Molded foam seat and thickly padded back has a snug curve that provides more space and makes you feel like sitting on a cloud.

【Reliable service】For any questions about the product, please contact me at the first time. We will let you feel our most sincere service within 24 hours.
Upgrade
Racing game simulator stand is made of high quality high strength alloy structural steel
Overall use of large round tube frame
Tube diameter 50mm thick, tube wall 1.5MM thick, maximum load capacity up to 1200 pounds
The thickness of the overall steel plate is 2.5~5.5MM
Provide professional racers with more professional, stable and safe driving equipment.
Compatibility:
Logitech: Driving Force GT, G920, G25, G27, G29, G923, TP3A Pro Pedals, Logitech Shifters
Thrustmaster: T300, T500 RS, T60, T80, T150, All Ferrari 458 Bases, TS-PC Racer, TX-XW Racer, TMX Force Feedback, T-GT, TH8 Shifter, TH8A Shifter.
Fanatec: Clubsport V1, Clubsport V2, Clubsport V2.5, CSL, CSL ELITE, DD1, DD2, CSL Pedals, Clubsport V1 Pedals, Clubsport V2 Pedals, Clubsport V3 Pedals, CSL Pedals, Clubsport Shifter
Other brands: check compatibility
Solid quality, DIY, support welding & drilling.
Logistics:
5 local warehouses in the US
In order to facilitate the customer's signature
According to the customer's delivery address and the actual stock
Divides products into two packages for delivery
The arrival time of the packages may not be the same
When you receive the first package, please do not worry, the second package is in transit
Wide and thick racing game seat
Wrapped with artificial simulated leather and filled with high-density sponge
A, uniform thickness, smooth surface, no natural defects, uniform pattern
Second, dirty resistance, weak water absorption, smooth and elastic to the touch
Third, the elasticity and tensile strength is stronger, the touch of comfort is very strong
Four, after high temperature shrinkage treatment, not easy to deformation and wrinkling
Five, good physical properties, high fiber strength, wear-resistant, durable and long-lasting
Six, good chemical properties, insect-resistant, waterproof, non-slip, non-pilling.
The adjustment angle of the back of the chair is 90-175 degrees.
By adjusting the handle, you can easily adjust to the angle you want.
It can be applied to players of different body types. Overall height: 36", side width: 23", knee width: 21", back height: 32", shoulder width: 21"