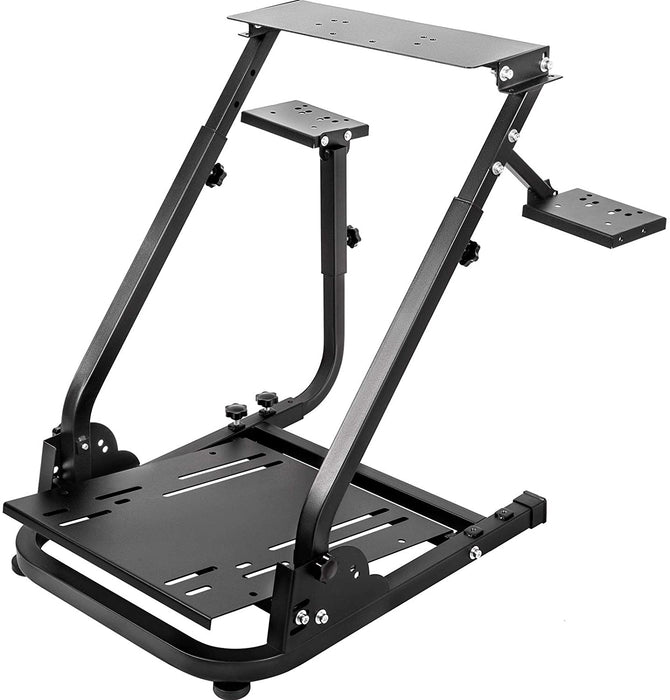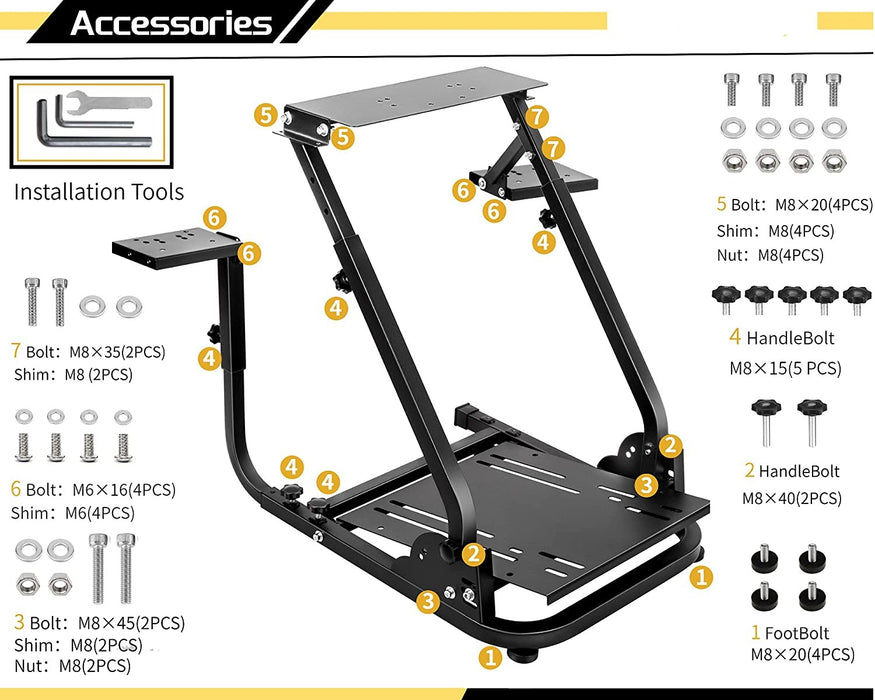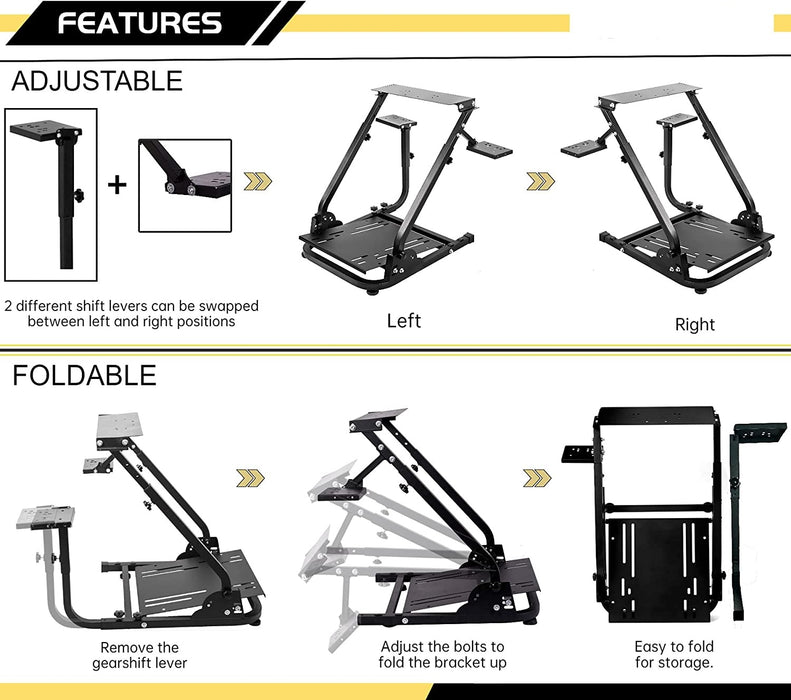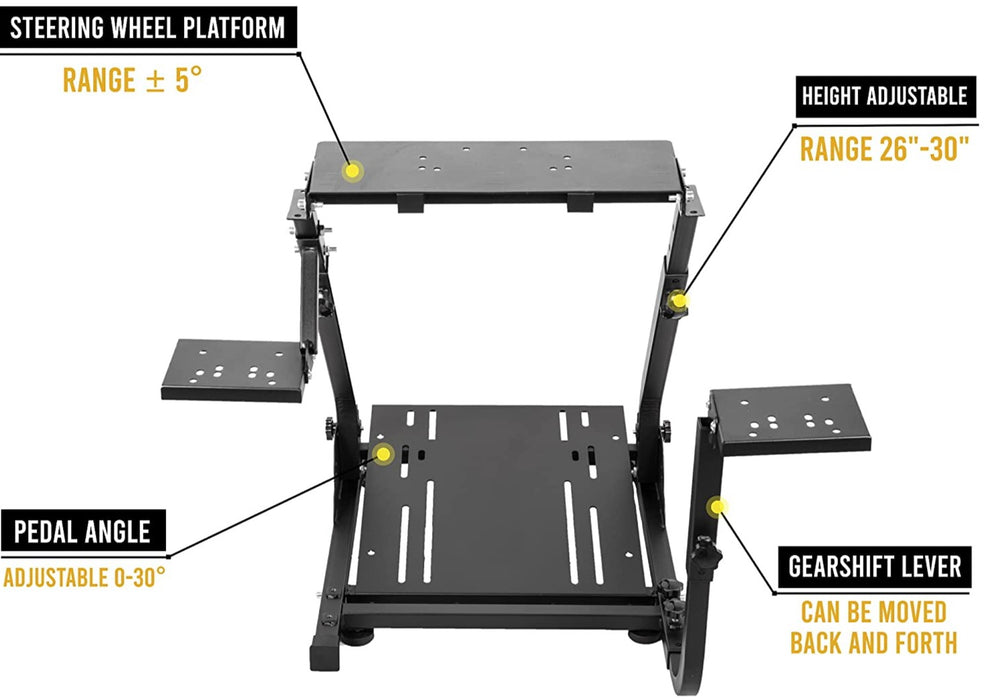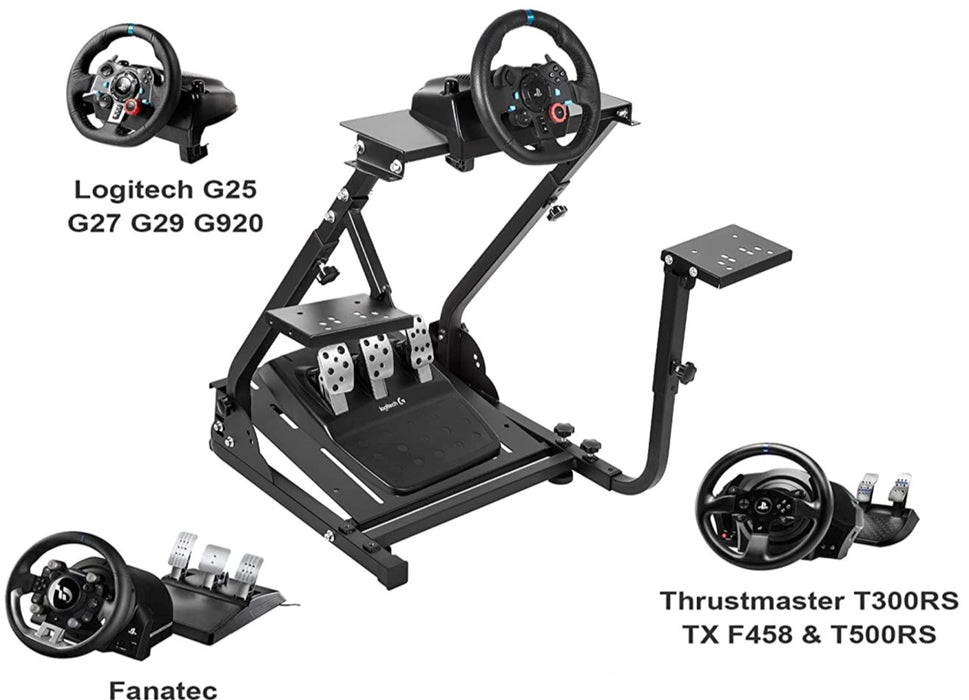 Minneer™ Racing Wheel Stand with Double Gear Adjustment fit Logitech G25 G27 G29 G920 G923 Thrustmaster T300RS T500RS PC PS4 Xbox,Steering Wheel Stand No Wheel Pedals Seat
【Design】Fully adjustable, the game mount is fully adjustable in height and tilt so you can adjust the steering wheel and pedals to whatever position makes you comfortable. Unique design, this game mount supports two shift levers, you can drop two shifters or one shifter with a handbrake, whether you like to drive left or right, you have one more option.
【Use】 Easy and quick to use, the steering wheel stand is hard mounted and will not pull out the precision wiring on your wheels. You can finish installing it in less than 5 minutes and get into the game quickly and steadily. You can easily fold the wheel stand by simply loosening the bolt and removing the shift lever. It not only saves space, but is also easy to store and carry. Making it a real choice for users with limited floor space and storage space.
【Material】The material of the racing cockpit is composed of carbon steel, which is very strong. The combination of rubber footbed and steel tube provides a smooth driving experience. The surface of the wheel stand pro has a double layer of smooth spray paint that will not fade, the bolts have galvanization that will not rust, and a non-slip foot pad is added to each support point. It not leave marks on the carpet. Effectively improve the stability and safety of the steering wheel stand.
【Wide Compatibility】Logitech GT, G29, G920, G27 or G25, Thrustmaster T300RS, TX F458, T500RS and all Fanatec wheels etc.. Perfect match with most racing wheel models. Our steering wheel stands support drilling DIY, you can also drill your own holes to suit your needs.
【Please Note】 If you encounter any problem in using the installation, you can contact us and we will give you a satisfactory solution. We will do everything we can to give you a good shopping experience. This product does not include steering wheel, pedals and gearbox.
Best Advantage:
Support two shift levers, you have multiple choices. You can install a shift lever on the left and right; you can also install a shift lever on the left and a handbrake on the right; you can also install a shift lever on the right and a handbrake on the left.
High-Quality:
Each hole in the wheel stand is perfectly polished, smooth, easy to clean, and solid with protective coating and the part is made of carbon steel, which is not easy to rust.

Easy to Fold:

The product can be easily folded, can save space for you, and is surprisingly small. It is a very good choice for users with limited floor space and storage space.
Stable:
The product is all carbon steel structure,4 rubber feet combined with the steel tubes make for a smooth and stable driving experience without marking or damaging any floors.

Free Adjustment
Racing wheel stand base size: 22.5"x19.5".Height adjustment of wheel stand: 22"-30".The wheel stand is adjustable in angle and height. The wheel plate is adjustable in angle.
Dimensions:

Satisfaction Guaranteed

Our steering wheel stand has excellent quality and it is so durable that it could be used for years! If any quality problems happen, you could contact us and we will give you a satisfactory solution and help you fix it. (Notice: The wheel and pedals are not included!)