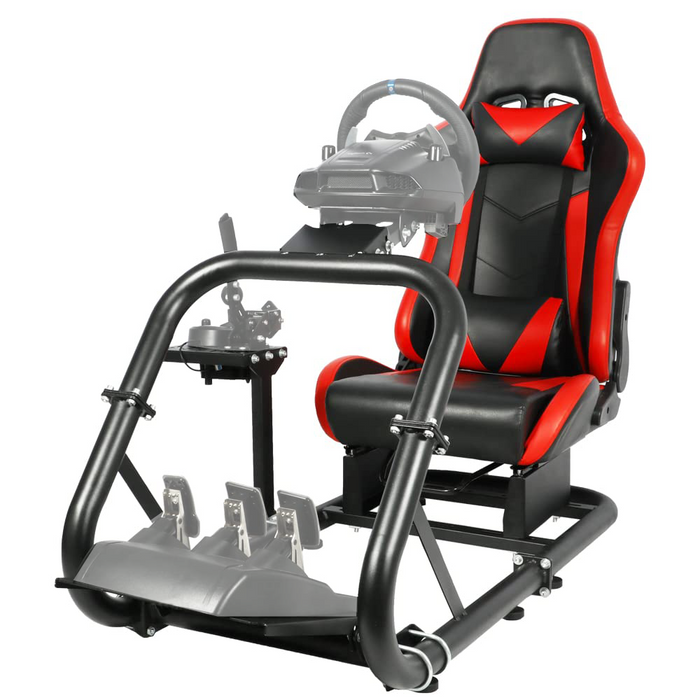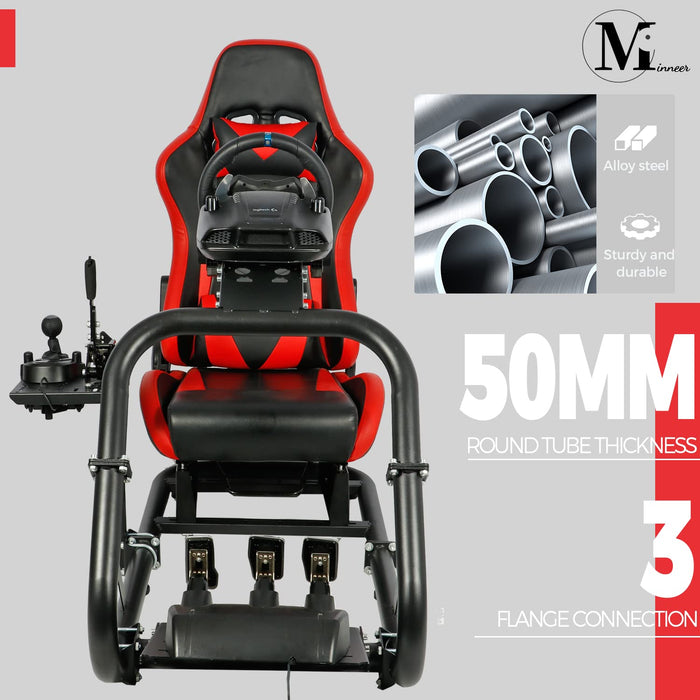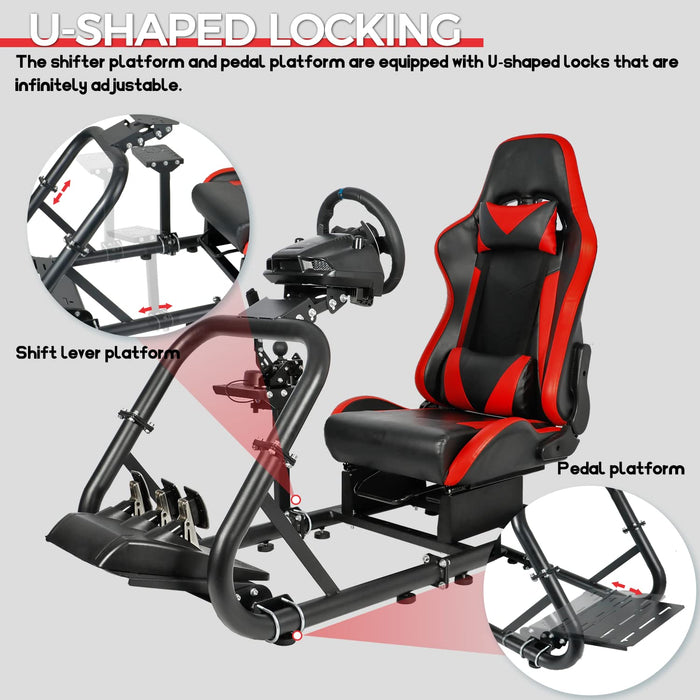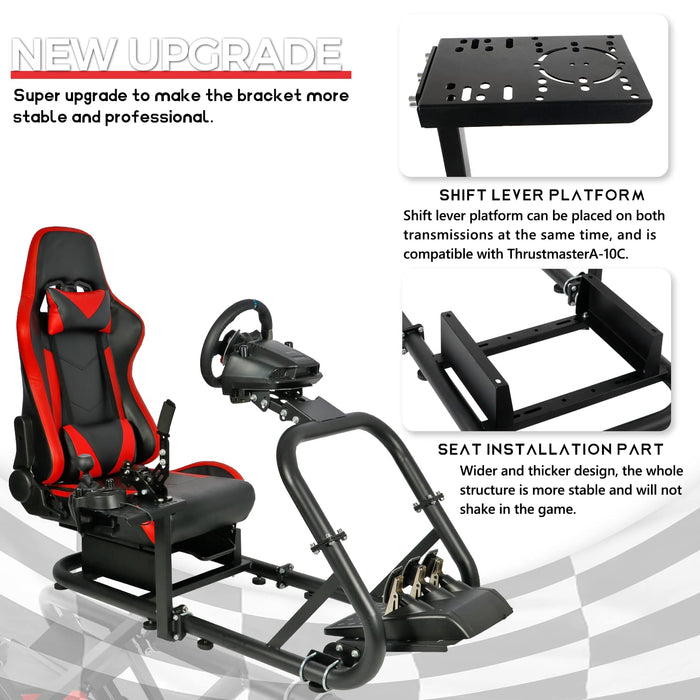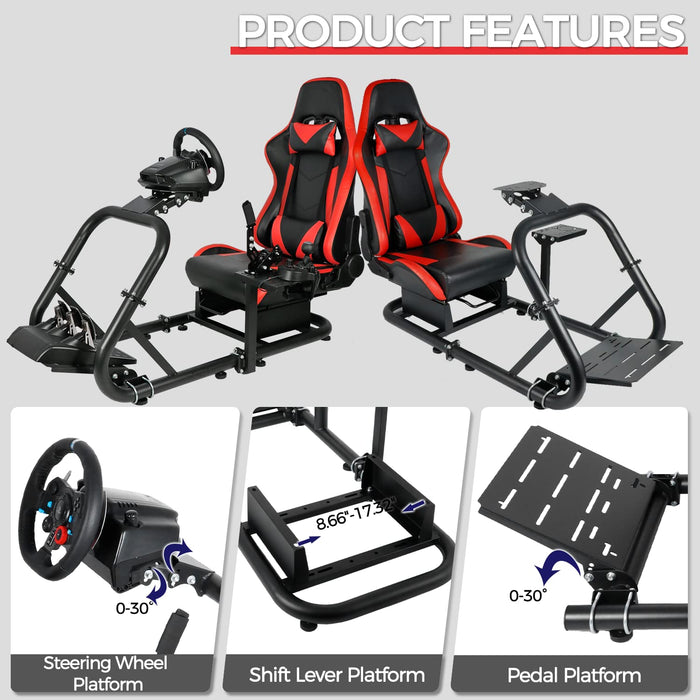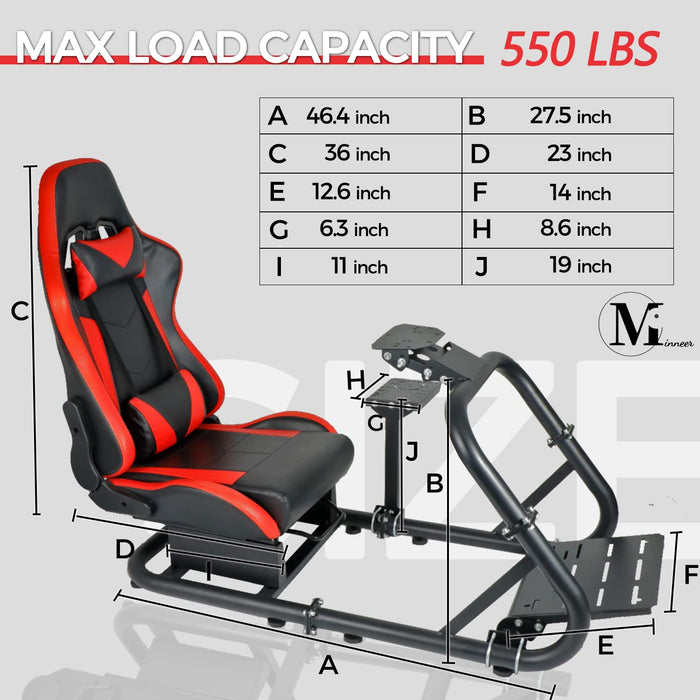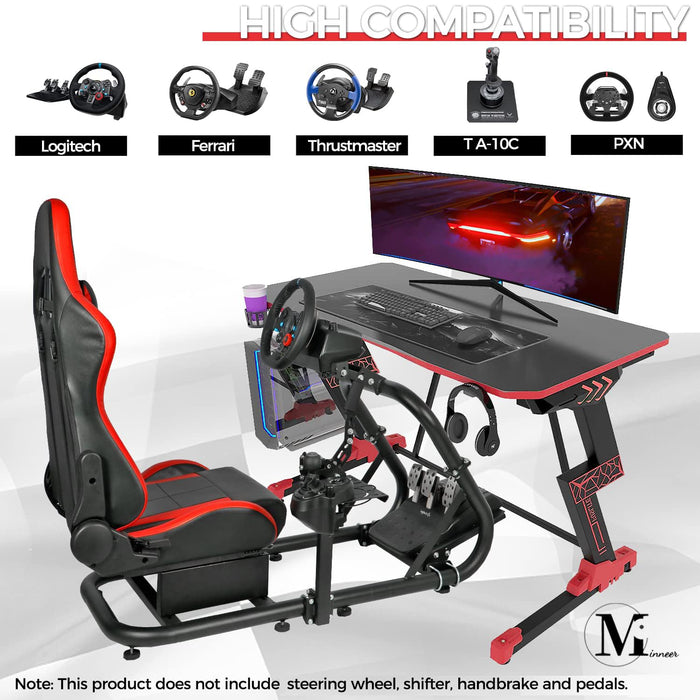 Minneer™ Immersion Racing Simulator Cockpit with Red&Black Seat Fit for Thrustmaster,FANTEC,logitech G25,G29,G92,G923 ,Height Adjustable Gaming Steering Wheel Stand (Only Frame & Chair Included)
【Enamel Disc Steel Tube Construction】: The racing cockpit is a perfect combination of 50mm extra thick round tubes and enamel discs. Each joint is fixed with 4 huge screws. Provide professional racers with more professional, stable and safe driving equipment.

【Punk Style Design】: funky streamlined design, with the appearance of a real racing car as a model. With a strong visual impact. At home, you can fully feel the feeling of real racing competition.

【Multi-Position Adjustment】: The steering wheel supports 6 positions of adjustment, the angle can be adjusted between 0-45°, and the height also has 120mm space for adjustment. The dual-stage adjustment of the pedal platform can be better suited to the needs of racers.

【Professional Racing Chair】: Professional PU material racing chair. Equipped with neck pillow & lumbar pillow. the smooth arc design of the seat edge can better experience the pleasure of a fast racing car. supports 180° flat recline.

【Compatible With Most Controllers】: This is a universally designed steering wheel stand which fits all Logitech, Fanatec & Thrustmaster series racing wheels, pedals and gear Specially designed for the Logitech G25 G27 G29 and G920 racing wheels, Thrustmaster T300RS, TX F458 and T500RS.
Minneer Super Heavy Duty 100% Heavy Feedback Racing Simulator Game Cabin
This new racing simulator is different from the traditional simulator is too bulky, too large, very space-intensive and other shortcomings. It achieves the double advantage of combining the professionalism and practicality of racing support.
Note: Products do not include steering wheels, pedals, hand brakes and other products.
Steering angle

The wheel platform can be adjusted in two positions to improve the adjustability of the steering wheel, so as to adapt to the way you hold the steering wheel.

Pedal platform

3-speed front-to-back distance adjustment

3-speed pedal angle adjustment

Shift lever platform

The shift lever platform can be installed on the left or right side of the bracket.

This can adapt to your different driving habits on the road, left or right. Our humanized design is more attractive.
Can bring a strong visual impact. Give racers an immersive racing experience.
ONE-PIECE ROUND TUBE DESIGN
Greatly reduce the shortcomings of the traditional racing bracket more steel tubes, more screws. This new racing simulator using 2 main round tube composition. It brings a leap forward to the professionalism and stability of the product.
Can fully meet the control of different racers on the steering wheel.
WIDE RANGE OF APPLICATION
Wrap-around design can achieve a small footprint after meeting all the needs of the racer. Even in the bedroom or study and other small spaces can also enjoy the race game.