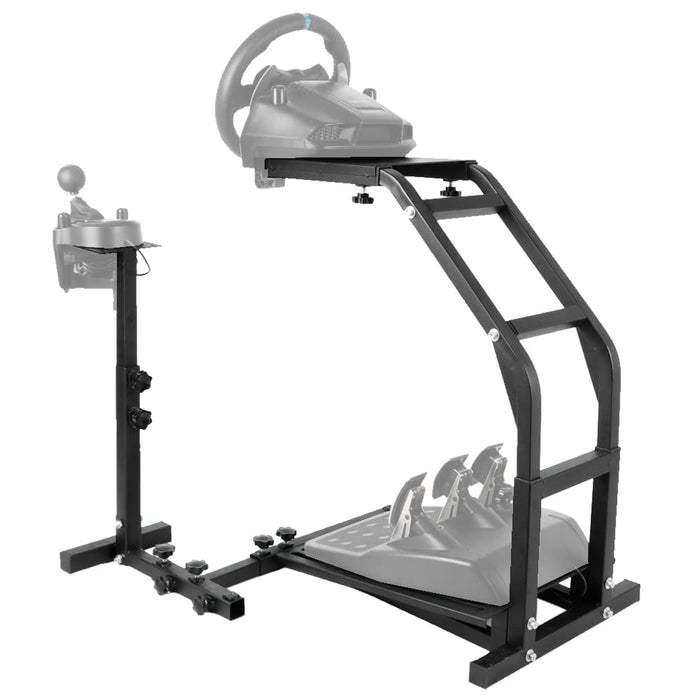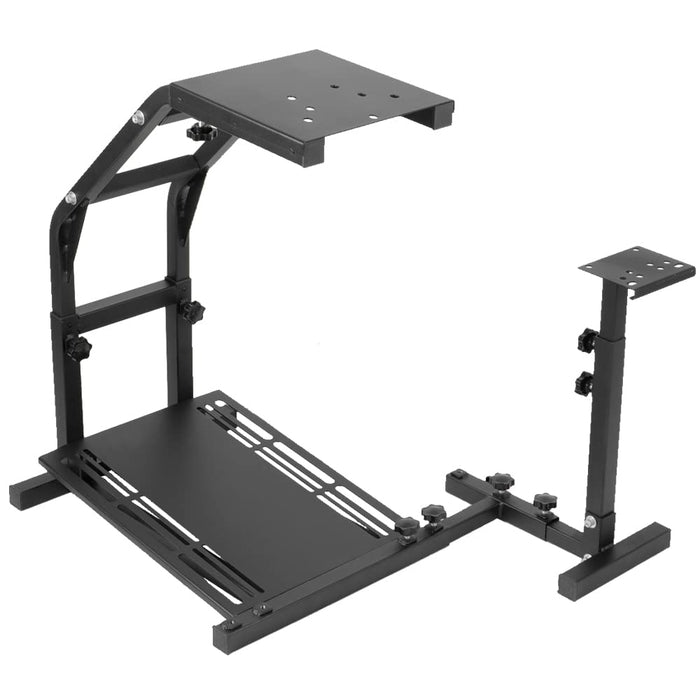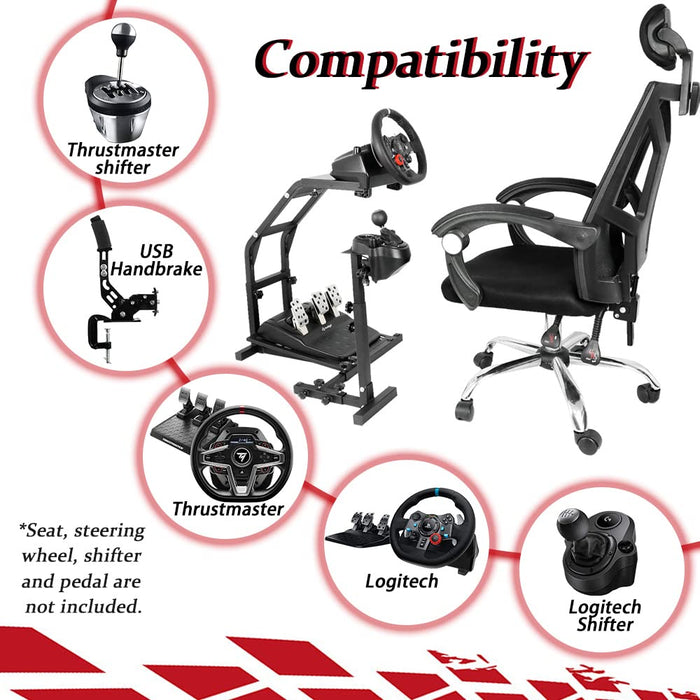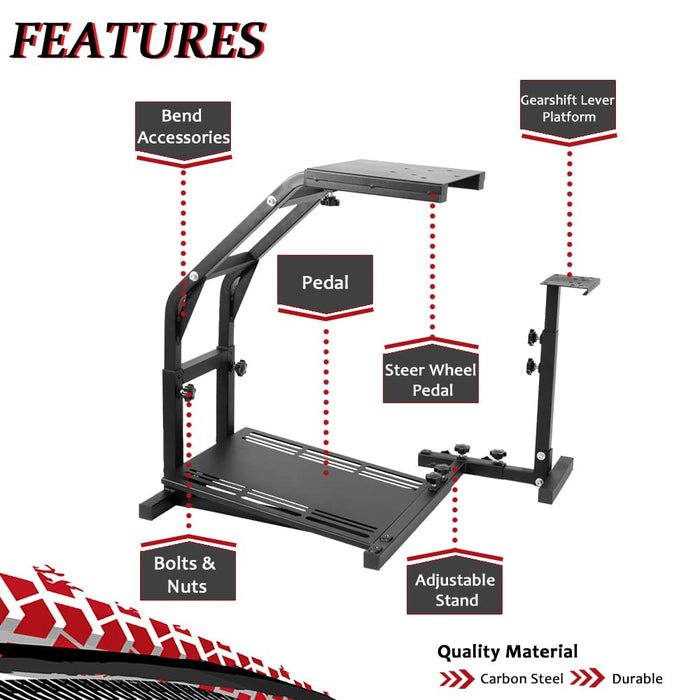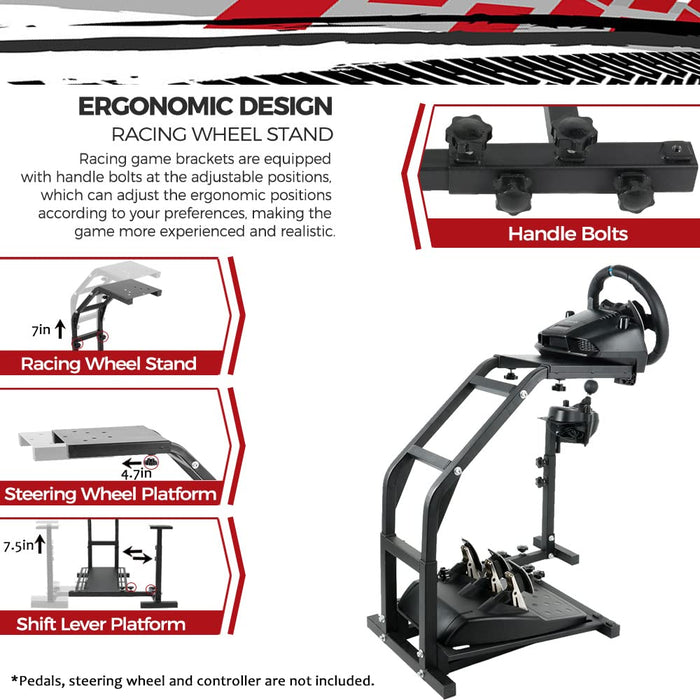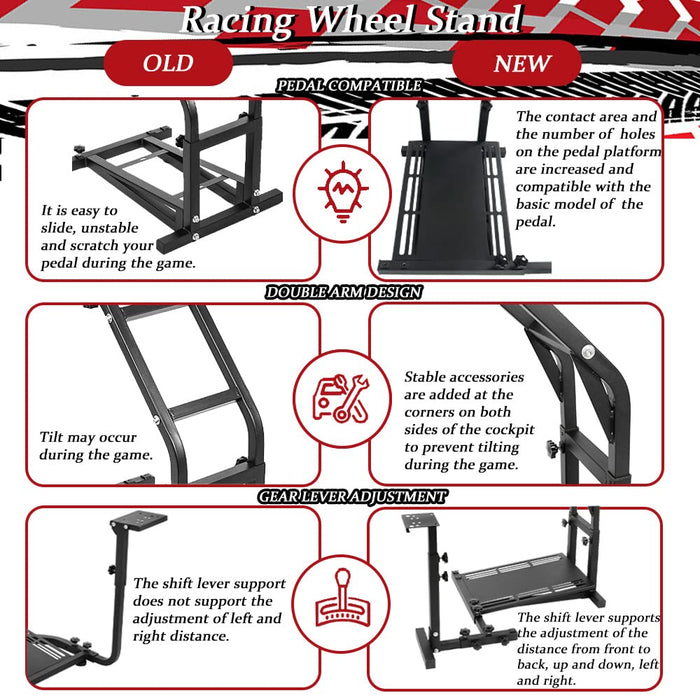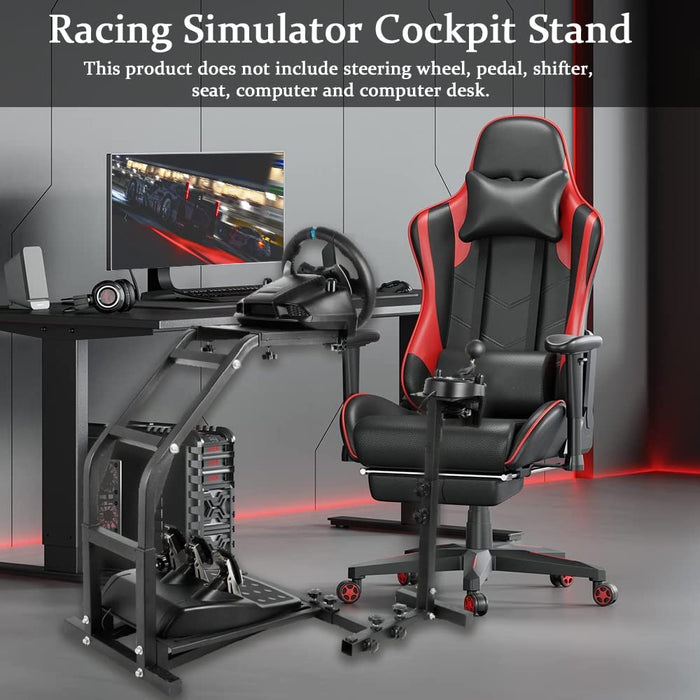 Minneer™ Racing Wheel Stand for Logitech G25 G27 G29 G920 G923 Thrustmaster T80 T150 T300 Height-Adjustable Sim Racing Stand Wheel Pedals Not Included
【Applicability】This racing game simulator stand is suitable for most brands of steering wheels and pedals on the market. Logitech G25 G27 G29 G920; Thrustmaster T80 T150 T300RS, TX, T500RS and F458, F430. support DIY, can be lightly drilled.
【Compatibility】This racing sim wheel stand is fully compatible with all game consoles - PC,Playstation4 Playstation3, Playstation2, Playstation1, Xbox One, Xbox360, Xbox, Nintendo Wii, Nintendo GameCube, N64, Sega, etc.
【High quality material】The racing wheel stand is made of sturdy high-strength alloy steel structure, double black spray paint, with 4 rubber feet, durable, easy to clean, can be wiped with a wet cloth, high stability and good security.
【Multi-position adjustable】Racing cockpit frame can be adjusted according to their preferences height angle. Easy to disassemble and adjust. The product is designed to be compact and easy to store, which saves space in the play area.
【Customer satisfaction】For any questions about the product in the use and installation process, please contact me. Even if you lose a bolt you can contact us. 24 hours to provide a solution.
【Fast Logistics】Arrange the shipping of the package within 24 hours. Support FedEx,UPS,USPS,5 local warehouses in the U.S., will give priority to the nearest warehouse to arrange the delivery of the package.
Product Description
Support double arms

Adjustable height

Add three crossbars to increase stability

Steering wheel platform

Adjustable length

Installation of steering wheel

Gearshift lever platform

Interchangeable between left and right

Height and length adjustment
Compatibility:
Adapted to most of the market Wheels、Steering wheel、Shifter
For example:Most Fanatec wheels,Logitech G25、G27、G29 and G920 、Thruster T300, T500 RS, T60, T80, T150, FERRARI 458 (all models), TX RACING WHELLS, TMX Force Feedback XBOX ONE,PS4 ets.
Racing wheel stand is one of the best products of our brand at present, which can bring you excellent gaming experience. The racing wheel stand is so user-friendly that we can play simulation racing games in any scene.