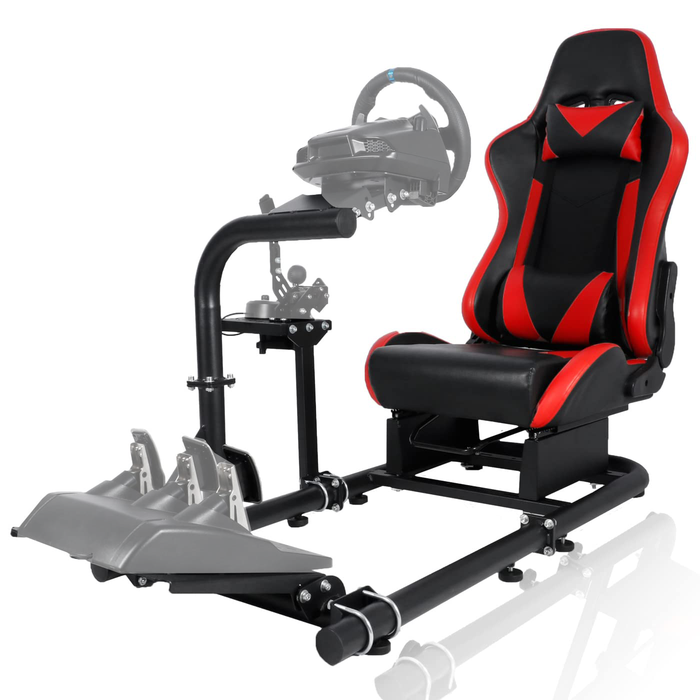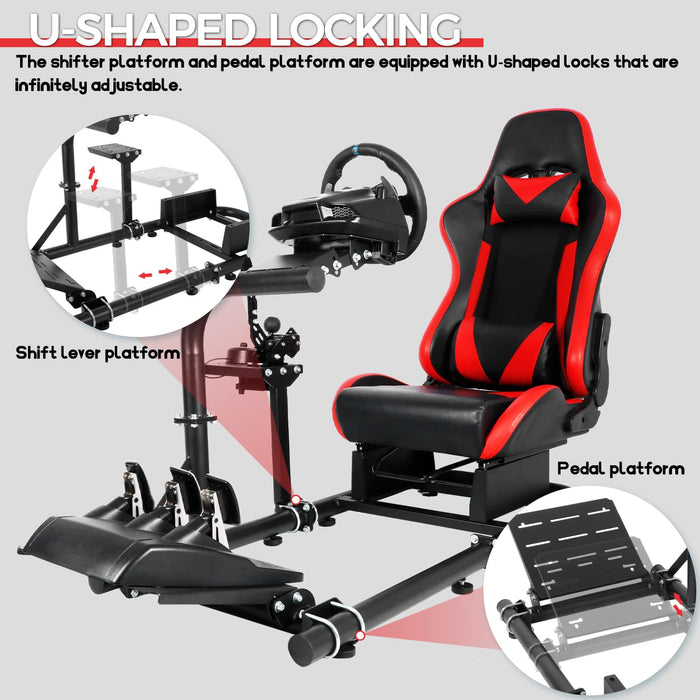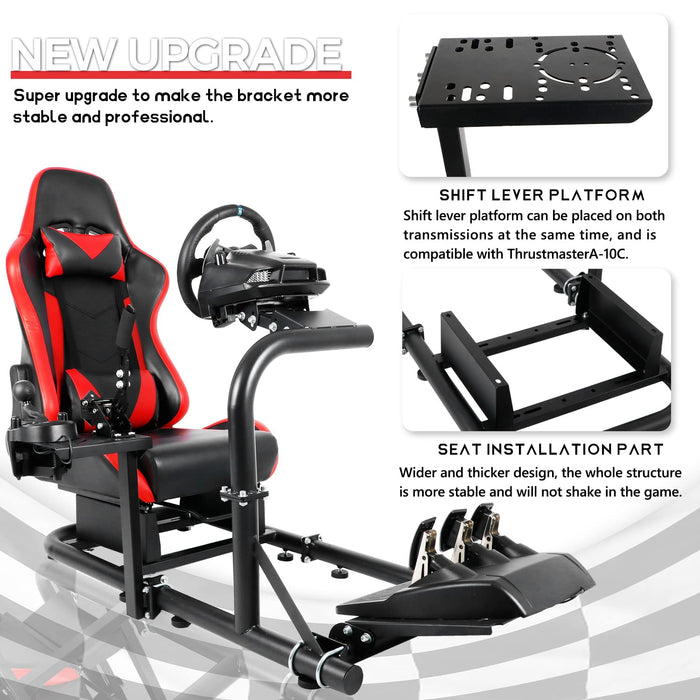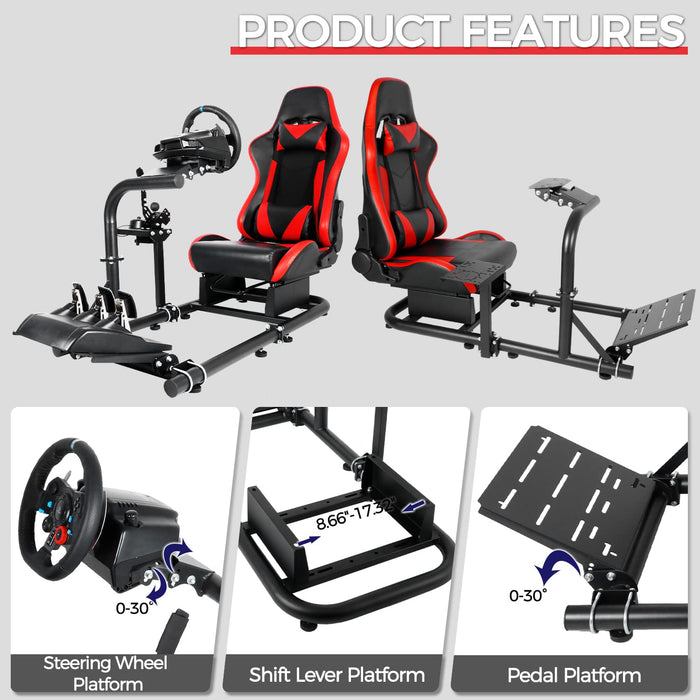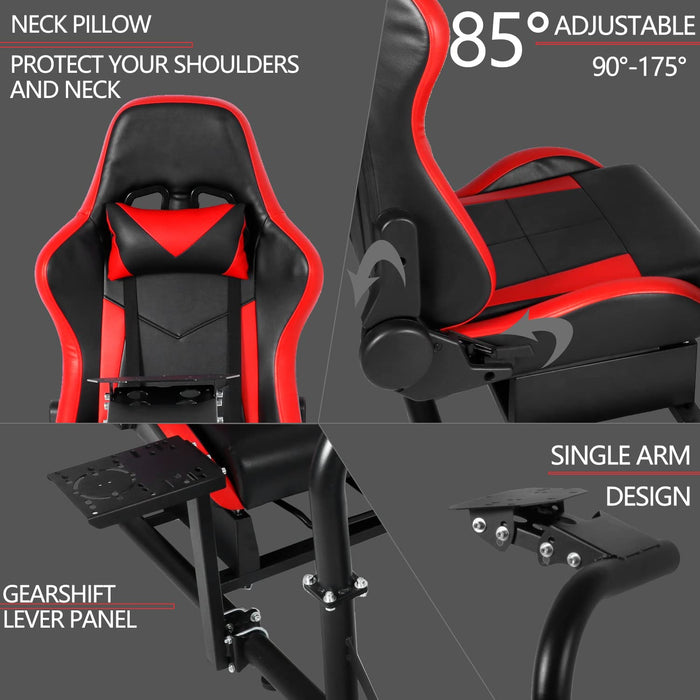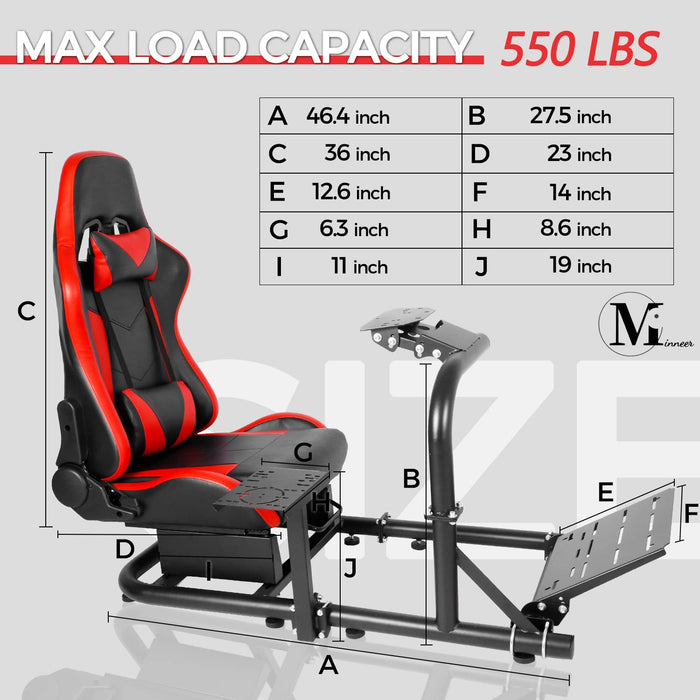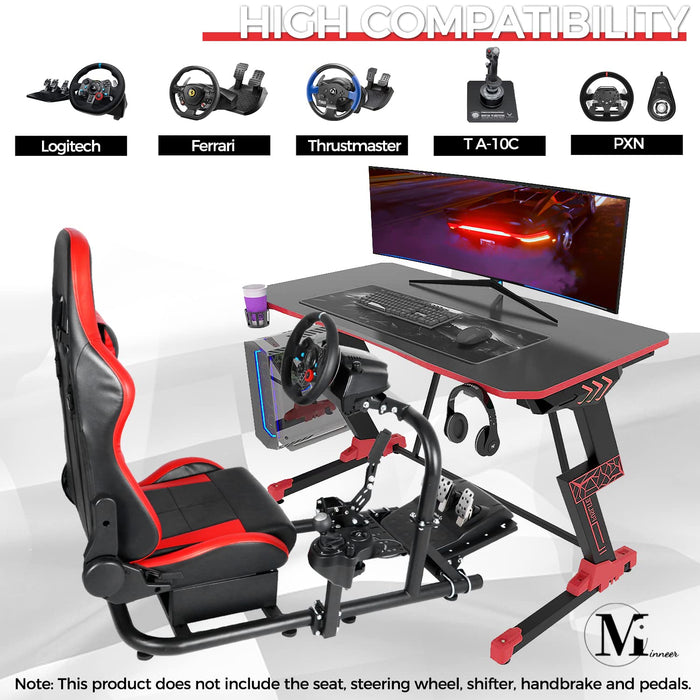 Minneer™ Gaming Simulator Cockpit with Red Seat for Logitech G25, G27, G29, G920 Dual-Segment Adjustable PC,Xbox,PS4 Racing Wheel Stand Frame Professional Level Steering Simulator Cockpit, Not Include Steering wheel, pedal and handbrake
Product Introduction:The frame is a powerful heavy-duty simulator, which can provide enough load capacity and torsion force. It is made of heavy carbon steel pipe. The bottom of the car base is made of stainless steel rubber feet, which firmly grasp the ground and provide maximum stability. It's a powerful game and a great friend to accompany for many years.

Compatibility:Compatible with all Logitech, Fanatec & Thrustmaster series racing wheels, pedals and gear shifter mounts available on the market. Specially designed for the Logitech G25 G27 G29 and G920 racing wheels, Thrustmaster T300RS, TX F458 and T500RS.

Special Design:The steering wheel platform supports dual-segment angle adjustment, height adjustment, front and rear adjustment. The pedals support angle adjustment. Shift lever supports front and rear adjustment.

Additional Installation:With a special seat, increase the waist distance, equipped with seat cushion, can adjust the seat forward and backward movement, and can adjust the seat back angle of 60 °- 135 °。 And with racing seats, with seat belt holes, can install 4-point, 5-point and 6-point seat belts. Bring you a more comfortable experience.

Purchase Note: This product consists of 2 packages. Including all installation hardware and tools. Out of the box. Quick setup. Please check the number of packages when you receive them. If you have any questions, please contact us. We will solve the problem for you as soon as possible.
Our products have a solid structure and unique design
that allows you to adjust your desired position to
meet your gaming experience according to your own habits and preferences.
Steering Wheel Angle Adjustment:

The steering wheel angle adjustment is 0-45°, the dual-segment design can make your grasp of the steering wheel more comfortable to have a good game game experience.

Pedal Adjustment:

The pedal adjustment angle is 2.5°-32.5°, the pedal can be adjusted forward or backward, and there are three gears to adjust the angle.

Shift Lever Adjustment:

The shift lever of this bracket supports left and right adjustment, so you can adjust the position of the shift lever according to your habit. In addition, the shift lever can be adjusted back and forth in four gears.

U-shaped lock:

The use of double bolts and U-lock fixed components, more robust and durable, with 50MM thickened round tube will not fall apart even after prolonged use.
Unique Design:
The overall black and red design, so that the color is no longer monotonous, very popular. The bottom of the seat is installed with double-locking slides, which is very stable and can be installed on our racing frame. The neck and lumbar area are equipped with small pillows (removable), which can keep you comfortable during long races and also protect your neck and lumbar area and develop good driving habits.
High Compatibility:
The stand can support many brands of steering wheel pedals on the market.
Such as : 

Logitech:G923,G920,G27,G29

Thrustmaster:T248PS,T248XBox,T300RS GT,TSPCRacer_cockpit_settings.

Etc.
(Excluding wheels, pedals, gear shift lever)
Product Information
Product Size: 9.45 x 9.45 x 2.76 inches
Product weight: 36.9pounds
Package Included:
1 x wheel stand
1 x Screw bag
1 x instructions